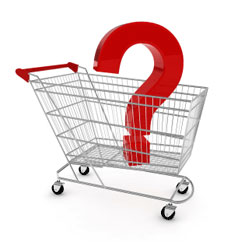 In part one, we covered the first two subjects in our online retailer's guide to Search Engine Optimisation (SEO), using your keywords effectively and producing regular, quality content.
In part two, we will cover two other important aspects of SEO, social media participation and link building, and how to tackle them with confidence.
Dive into social media, and keep swimming.
One of the most recent Google updates increased the amount that social media activity counts in search engine rankings. Now, your engagement in social media will enhance your SEO efforts as well as increase your reach and popularity.
Put your best business hat on and go forth and participate in social networks such as twitter, facebook, Google+ and Pinterest. Set up accounts under your brand name and share images and stories, ask for opinions and comment on other people's posts. Retweets, shares and comments on your social media content are taken into account in search rankings.
Link, and link again!
Linking is the last and possibly most important SEO element we will cover. Search engines use links to not only find your online content but also to judge its relevance, importance and how trustworthy it may be. So linking should not be overlooked.
Create links from one page to another within your online store and include the keywords for the page you're linking to (not from) in the text for that link. For example, a link worded "our new red wrapping paper" would link to the page for which the keywords were "red wrapping paper".
The hardest links to get, and therefore the most valuable, are those pointing into your web pages from other popular, trusted and relevant sites. There is no easy way round this, it takes a bit of time and effort but it will be worth it.
First up, check your competitors' website backlinks. A great tool for doing this is www.opensiteexplorer.org . This will provide a list of web pages linking back to their store, which is a good way to discover where you might also get links back to your own content.
Try emailing your partners and suppliers directly to request a link from their website and send a request to other relevant sites such as retail/lifestyle blogs (giving your reasons why they should link to you).
Investigate listing your site on relevant online directories. http://www.seomoz.org/directories is a good place to start looking for directories relevant to online retailers like yourselves.
We should add a word of caution here… don't be tempted to pay for "hundreds of links" from "SEO specialists" who may email you. Such links are usually poor quality and you will be penalised by search engines. If it seems too good to be true, it probably is.
So there you have the basics. There are plenty of free resources on the web if you'd like to learn more technical SEO techniques. We recommend the SEOmoz guide http://www.seomoz.org/beginners-guide-to-seo (NB: we have no affiliation with them, they are just a great resource!)
Good luck, keep at it and it will make a difference.
Related articles