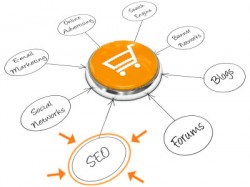 Like most people setting up an online store, you probably know you should be optimising for search engines to get more qualified traffic. The trouble is, you may not know where or how to start.
Never fear! we've put together this two-part blog post to get you up to speed in no time.
Let's kick off with a quick refresher on why Search Engine Optimisation (SEO) is so important.
SEO is not paid search marketing such as Google AdWords. We will look at that in a separate post. SEO is a bunch of techniques that you can apply to your web presence to help you get into Google search results without paying for advertising. It's commonly called 'organic' search.
Search engines send out 'robots' to find your web content and index it so they can refer to it quickly during search queries. Once your content is indexed, the search engine can then list it in the organic search results for the relevant search query. The whole process is very complex and highly automated – it relies 100% on the information the robots can find.
Therefore the 'trick' to good SEO is for your content to be easy for the robots to find and highly relevant to the keywords your target audience will use to search.
Luckily for you, your Spiffy Store is already brilliantly formatted and coded to be search engine friendly, but you will still need to use your keywords in the right places, create interesting content, embrace social media and build links to your site to improve your search engine ranking.
We've broken four basic SEO principles down into manageable techniques that you can do yourself. In this post we will cover using keywords correctly and creating quality content. Using all four elements will make a real difference to your search engine rankings, pushing your pages further up the results listing towards that coveted first page position.