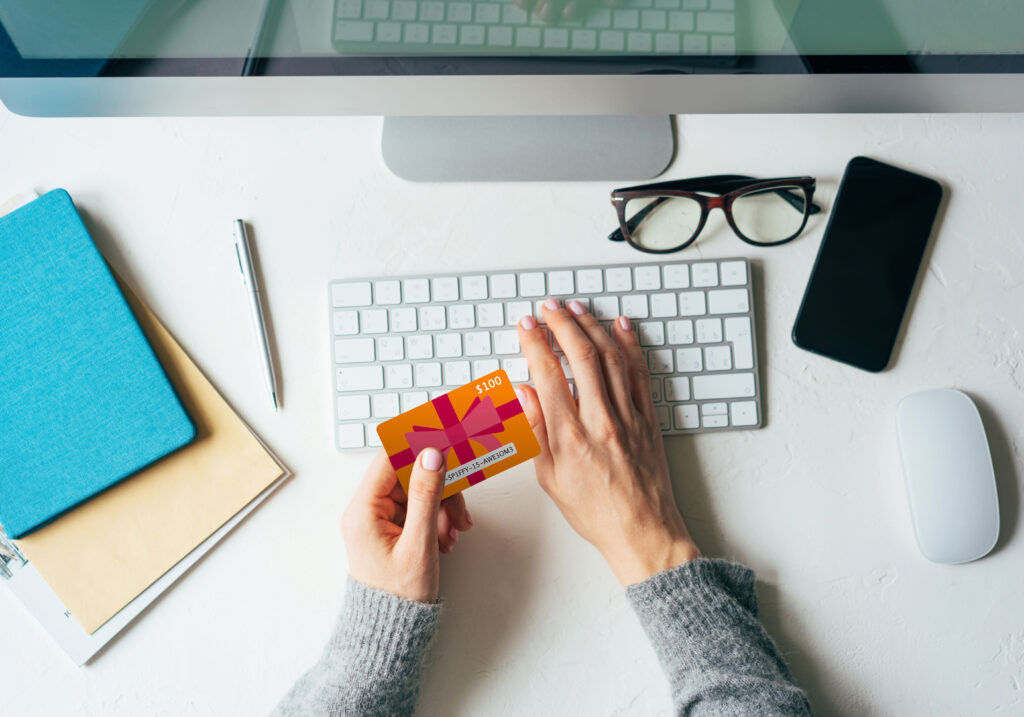 As part of our efforts to support small businesses (like us) during these difficult times, we're looking for ways we can help our merchants stay on top of cashflow woes. If you have an idea for a new feature or function that will help you, please let us know by emailing us at support@spiffystores.com.au
To start, we're announcing new support for Gift Cards, built right into your store. We're extending this to include our Startup Plan, which means that right now, it's the best value ecommerce plan available from any ecommerce provider.
We hope this helps our merchants as we and our economy slowly recover from the effects of COVID-19.
Why gift cards?
Sudden declines in sales are difficult to manage when expenses haven't changed, and still need to be paid. Electricity, rent, utilities, and basic supplies are static costs that we don't often have control over. This leaves merchants struggling with money going out, and less money coming in. Here are some other benefits to offering Gift Cards…
Gift Cards build brand awareness
Gift Cards are easy, cost-effective advertising that can help keep your business top of mind with your audience. Virtual Gift Cards promote your brand messaging with online customers, and physical Gift Cards offer wallet-sized advertisements to share your business's messaging.


Gift Cards capture more holiday sales
Gift Cards allow all types of businesses to catch the holiday spirit. From homewares to car wash subscriptions, lawn care, home maintenance and salon services, Gift Card programs can make the holidays brighter for everyone – whatever their interests are.


Gift Cards enable customer engagement
Gift givers are essentially your brand ambassadors, so you want to ensure recipients and givers alike are left feeling uplifted by their experience. Engagement with a customer starts with a Gift Card, but it doesn't have to end there. Gift Card programs open doors to deeper customer relationships and additional marketing opportunities.


Gift Cards are safe and convenient
Today's virtual Gift Cards are safer and more accessible than paper certificates that were vulnerable to loss, theft and fraud from duplication. As for convenience, you can accept Gift Cards the same way you accept credit and debit cards: in your own online store's checkout.


Gift Cards improve cash flow
Selling Gift Cards allows you to generate revenue in advance of providing products or services. As an added bonus, customers who use Gift Cards aren't as price sensitive. They actually consider them as free money or a discount, which means that they'll spend more than the value of the card when redeeming the card. In fact, two out of three consumers who pay with a Gift Card will spend 38 percent more than the card's value.

Using Gift Cards to increase your cash flow
Gift Card products can be created in your Spiffy Store in the Products section of your store's admin. You can modify their name, image, description, and the denominations that your customers can buy. They're sent digitally by email and can be redeemed in your store at any time. Make sure you check out our tutorial on creating a Gift Card product.
Once you've set up your Gift Card product, make sure you let your customers know. You can do this a number of ways…
Email your customers to let them know. You may even want to offer them a discount on a Gift Card using a coupon code.


Connect with your customers on social media. When we're all isolating and trying to keep safe, it's more important for you to connect with your customers. As you ask how they're doing, let them know how you're doing as well, and how they can now send a gift card to loved on.


Connect with your local community through online based channels, like chats, groups, and discussions, post on local Facebook pages. Small businesses often have loyal followers and they can help you get the word out.

Issuing Gift Cards
In addition to selling Gift Cards, you can also send Gift Cards yourself. This is often a good way to say thanks to a customer, or to issue a refund… but you can also issue Gift Cards lower in value to promote spending, rather than offering a discount.

You could also issue Gift Cards as part of a giveaway promotion, or competition. Our tutorial on issuing Gift Cards can be found in our knowledge base.