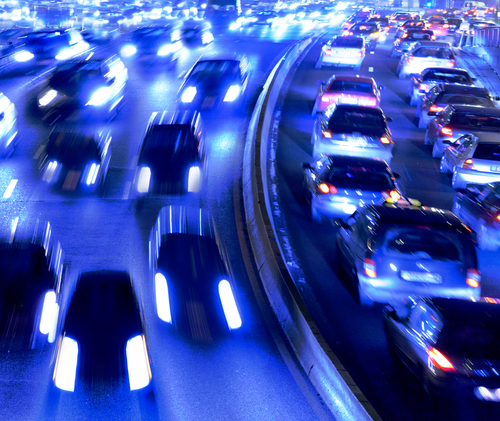 One of the quickest and easiest ways to get traffic to your online store is through paid ads on search engines like Google. It's great for bringing people to your site when you first launch.
But wait, I hear you say, why pay when I can get listed in search engine results for free?
OK. Here's a quick recap on the difference between the two types of search engine results listings.
Organic (free) listing
Appearing for free in search engine results is known as an organic listing. You can't buy the placement – it's made by the search engine based on its assessment of the content on your web page and its relevance to the search term. It looks at about 200 factors to help it make that decision.
Paid listing
Paying for a listing in search engine results is known as Search Engine Marketing (SEM) or pay-per-click (PPC) advertising.
These ad listings show up in the top positions on the first page of search results, and in a column down the right hand side. They look very similar to other listings, but they're labelled 'ads' or 'sponsored links'. And if you look closely, you'll see they read a little differently. AdWords is Google's paid advertising program.
It doesn't cost anything for your ad to show, but you'll be charged a small amount when your ad is clicked on. The charge varies depending on the relevance of your ad and web page to the search term, and how much you've offered to pay for that click.
Why would you pay?
Well, put simply, it can be hard to get in the top search results otherwise.
The algorithms that calculate the position a web page is given in the free search results are highly complex. Trying to get a high ranking can take a lot of time, effort and specialist knowledge and you'll be competing with countless other businesses trying to do the same.
And when the algorithms are updated (which happens a lot), you can find your page rankings change overnight.
Google AdWords gives your web page a much better chance to appear on the first page results for your chosen keywords, and you can do it really quickly.

Ready to give it a go? Here's how to get started

Don't be tempted to rush in to creating your ads before you've done steps 1 and 2. They're crucial!
1. Get into your customers heads
Before you create your first campaign, write down everything you know about your customers. It'll help you create better campaigns if you're seeing your offerings from their perspective.
Who are they? What would they type into the Google search box to if they were looking for products like yours? Where do they live?
2. Draw up a list of keywords related to your business and products
Make a list of the search terms you'd expect your customers to use to find your products. These are your keywords.
Don't be too general in your choice. A one-word term is usually expensive for a click because it's so generic and popular, and you can end up paying for traffic that's looking for something you may not stock.
Aim for keywords of two or three words, and include brand names, colours, and your location. A jewellery store keyword list might include high-level keywords like "gold jewellery", as well as more specific categories like "gold and diamond wedding rings". As a rule, the more specific the keywords, the closer the visitor is likely to be to buying as they've already narrowed down their choices.
Your web analytics software might give you some insights into the terms people are already using to find your web pages. This is not as easy as it was though, as the most common web analytics tool, Google Analytics, has stopped sharing that information. Grrr.
3. Set up your AdWords account
Now you've done your homework, head over to https://adwords.google.com and follow the instructions to set up your AdWords account.
If you've already got a Google account (like Gmail), you can use that email address and password to sign in. You can also create a separate account if you'd prefer to keep your business and personal activities separate.
4. Set up your first AdWords campaign
Once you've signed up and verified your email, you'll be taken to the "Your first campaign" page.
It's important to know your goal for the campaign before you start so you can tell if it's effective. Generating sales is probably the main goal for an online store, but you can use AdWords to bring in just leads or traffic too.
Each AdWords campaign has its own settings that let you define the budget and where want your ads to appear. These settings will apply to all ads within the same campaign.
It's very easy to set up a campaign – just fill in the fields displayed: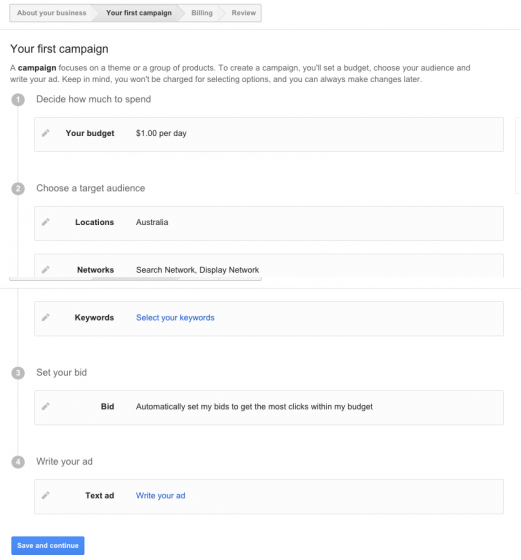 Your budget – this is the most you're willing to pay per day for traffic to the ads in this campaign. You can change it at any time if you find you're not getting the results you want.
Locations – these are the geographical places where you want your ads to display.
Networks – these are the online networks where you want your ads to show; Search Network is the default but you can also choose Display Network to have your ad show on Google partner websites too.
Keywords – This is where you list the keywords you want to use to bring traffic to your ads. This field will be pre-filled with suggestions and their approximate search volumes but you can delete the ones you don't want and add your own. Don't go mad here, use around 10-20 keywords per campaign to keep it manageable.
Bid – this is the most you want to pay for a click on your ad. You can set your bids for a click manually, or let AdWords do it. When you're starting out, it may be easier to let AdWords do it for you. If you choose the manual option, enter a default bid as well. This will be the most you want to pay for a click.
Write your ad – this is where you put together your AdWords text ad. There are other types of ad you can make but this is the easiest and most popular.
Landing page: this is the actual web page the visitor will land on when they click the ad.
Headline: 25 character limit. The headline should be highly relevant to the search query you're expecting for this ad.
Line 1: 35 character limit. Mention your unique value or problem you solve here.
Line 2: 35 characters. Continue, and add a call to action here to encourage a click.
Here's an example of one of our Spiffy Stores text ads.

A word about: relevance

Relevance is the currency of search. It's the most important aspect of your ads. Clear, persuasive ad text, that's highly relevant to your keywords and the content of the page it leads to, will get better results. And as AdWords uses both quality (relevance) and bid ($) to determine your ad's position, you can get a higher position, sometimes at a lower price, with highly relevant keywords and ads.
5. Complete your payment details
As this is your first AdWords campaign, you'll need to fill out your payment information. Then, once your ad is approved (yes, it has to go through Google's approval scheme), it will be active. You can 'deactivate' it by pausing the ad and it won't show up in search results.
6. Keep an eye on your AdWords results
AdWords is not a set and forget exercise.
To get the most out of it and not waste money, you'll need to keep coming back to analyse the results and make any changes that will improve your ads performance. More on how to do that later.
In the second post in this series, we'll look into some of the ways you can optimise your ad. Stay tuned!