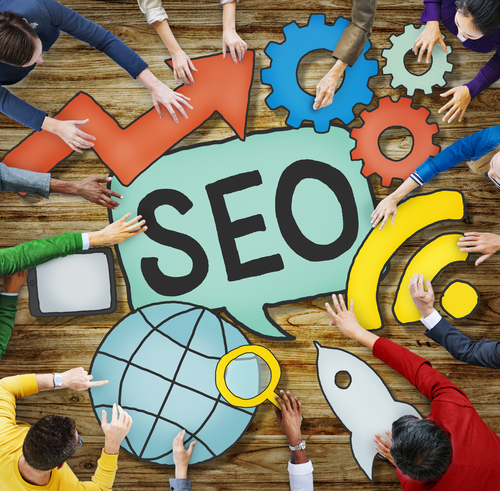 We've all had those uninvited emails.
The ones kindly telling you that you're not ranking well on search engines like Google, and their Search Engine Optimisation (SEO) services will bring you lots of web traffic and a position on the first page of Google results.
Tempted? Take a deep breath and think again.
"No one can guarantee a #1 ranking on Google."
 How do I know? Cause that quote is taken directly from Google's support website.
A brief history of SEO
Search engines like Google want to be able to show you the most valuable and relevant web pages for your search query. To be able to do that, they first crawl web pages and use very complicated algorithms to rank them in an index.
Very early on, people started gaming the system using tricks known as 'black hat' techniques to try to outwit the algorithms and jump up the rankings.
These tactics included:
Stuffing the keyword phrase into the page (both visibly and invisibly) as many times as possible
Buying and swapping links, or listing on poor quality web directories, to get as many backlinks as possible
Spamming the comments section on blogs and forums just to get a backlink
Spinning low quality versions of an article onto lots of different sites
Technical trickery like doorway pages, cloaking and redirects
As a result, Google began to update its algorithms to reward top quality content and filter out pages that used dubious methods to try and win their attention.
And it's got very good at it.
Play nice or face the consequences
Many dodgy SEO tactics are still being used by unscrupulous companies, even though the Google algorithms have been updated numerous times to recognise and penalise these tactics.
These methods are useless at best and downright dangerous at worst. And who gets penalized for these actions? The website owner. That's you.
So if you want to steer clear of a Google penalty that bombs your search rankings, you need to make sure any SEO activities for your website are best practice.
What is good SEO?
Good SEO is about giving Google what it wants. Which is all about giving the user what they want…
> top quality, helpful content (web pages, video, pdfs etc)
> relevant to the search query
> on an easy-to-use website (technically sound)
> that other people recommend (through quality, earned backlinks)
So what are your options?
Firstly, do yourself a red hot favour and learn some SEO basics.
>>> Start with this article, or this one, by yours truly, written as a simple intro to SEO for people with little or no prior knowledge.
>>> Read up about SEO. There are a huge amount of free resources online like this SEO guide from Google itself.
>>> Take an introductory online SEO course like the one run by my pal Kate Toon called "The Recipe for SEO Success".
When you're up to speed (it doesn't take much to learn the basics!), you'll have a choice to either pay an SEO specialist to do the work for you, or do it yourself.
Use your smarts when you pick an SEO supplier
If you're going to employ a specialist, please don't randomly pick one (or reply to one of those unsolicited emails). Speak to other business people to find out who they use and recommend, and search online for good reviews.
A legitimate SEO company should be able to
explain the SEO techniques it uses
show you examples of their work
put you in touch with happy customers
provide detailed reporting of their work and the results it's getting
Their services should include
keyword research for your specific niche
an SEO audit of your current website with advice on what to fix to make it more SEO friendly
a strategy and support to build quality backlinks
help with content development
With a good understanding of SEO at your disposal, you should be able to weed out any dodgy dealers.
The takeaway?
Don't waste your time and precious cash trying to outwit Google. Understand how to work with them, not against them.
Whether you choose to hire an SEO specialist or DIY, maintain a good quality website and you'll enjoy a stream of visitors who want to be there.