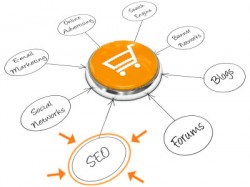 Like most people setting up an online store, you probably know you should be optimising for search engines to get more qualified traffic. The trouble is, you may not know where or how to start.
Never fear! we've put together this two-part blog post to get you up to speed in no time.
Let's kick off with a quick refresher on why Search Engine Optimisation (SEO) is so important.
SEO is not paid search marketing such as Google AdWords. We will look at that in a separate post. SEO is a bunch of techniques that you can apply to your web presence to help you get into Google search results without paying for advertising. It's commonly called 'organic' search.
Search engines send out 'robots' to find your web content and index it so they can refer to it quickly during search queries. Once your content is indexed, the search engine can then list it in the organic search results for the relevant search query. The whole process is very complex and highly automated – it relies 100% on the information the robots can find.
Therefore the 'trick' to good SEO is for your content to be easy for the robots to find and highly relevant to the keywords your target audience will use to search.
Luckily for you, your Spiffy Store is already brilliantly formatted and coded to be search engine friendly, but you will still need to use your keywords in the right places, create interesting content, embrace social media and build links to your site to improve your search engine ranking.
We've broken four basic SEO principles down into manageable techniques that you can do yourself. In this post we will cover using keywords correctly and creating quality content. Using all four elements will make a real difference to your search engine rankings, pushing your pages further up the results listing towards that coveted first page position.
Use your keywords in the right places.
If you've read the last blog post, you'll know how important keywords are and how to choose the right ones for your online store. Now here's how to put them to work on your site.
You will have different keywords for different pages of your site. For ecommerce stores, it's usually the product name. Spiffy Stores will automatically use the product title or collection title you enter in the url and the product page's title meta tag, but you should also repeat it 2-3 times in the page copy (especially in the first paragraph and last sentence of the page). Ideally, use variations of the keyword term to keep a natural flow for reading.
Keywords should also be used in the file name of an image on a page and its 'alt' tag text (the text that will display if the image doesn't download). Again, clever Spiffy Stores will do this for your product images from the product titles you input, but you can also edit the alt tags of any product images after they've been uploaded.  You should also add relevant alt tags to pictures you use on other pages like your blog posts.
Meta tags of your product pages are also automatically added for you, but you can override this and add your own custom keywords and text to the title, keyword and description meta tags (the description meta tag is sometimes the snippet of text people will see on Google search results) of all of the pages on your store. You can edit the meta description of any page, product, or collection by clicking the "Edit Search Engine Data" link when editing your content. If you do write your own meta description, keep the copy under 160 characters as anything longer than this will not show up in search engine results and vital information may be lost.
And lastly, use keywords in the text of links coming into that page.
Create quality content. Lots of it. Regularly.
Google has placed much emphasis on fresh and frequent content in its search algorithms, so be prepared to keep generating new content if you want to be found online.
Make use of the blog built into your Spiffy Store and update it every week with a new article. Stuck for ideas? You could write about a new product, a popular trend, company news or respond to a frequently asked customer question. Don't forget to add an image too, like we have done here.
Try to put out a press release about once a month. You might have hit a new sales record, launched a new product, hired some cool people or perhaps you are attending a local event. All of this can be used in a press release that you can easily distribute through online services like www.prweb.com or www.newsmaker.com.au  If you're new to online PR, stay tuned for our upcoming blog post on how to create a professional press release, coming soon.
You could also write an information page that your customers would find useful. For example, if you sell fine china, you might like to explain how best to look after fine china.
In general, aim for your articles to be 300 – 500 words in length and remember to use your keywords when writing as we've described.
And whatever you do, don't duplicate substantial amounts of copy from other places on the web – including your own site! Google will penalise you for it, and the ranking of your site will likely suffer as a result.
I think that's a good place to pause and let you catch your breath! Our next post will look at two other techniques – social media and linking – to help drive traffic to your fabulous online store.
Related articles