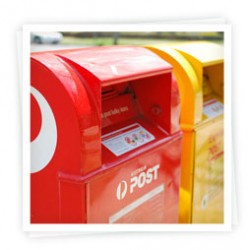 One of the major changes in our recent software upgrade has been in the way we deal with the Australia Post shipping rate calculator.  This article outlines the changes that you should make to your online store to take advantage of the new features.
In our old system, each of the rates was added individually as a separate shipping rate.  The store owner chose which Australia Post rates were to be added to the shipping rates for each country. So, for domestic shipping, you could add "Regular Parcel Post" or "Express Parcel Post".
Similarly for international shipping, you had a range of options from "Air Mail", "Sea Mail" and some courier options.
With our new improved "Shipping carriers" model, the new Australia Post shipping carrier can now be activated globally, and you can specify which rates you wish to support in your ecommerce store.