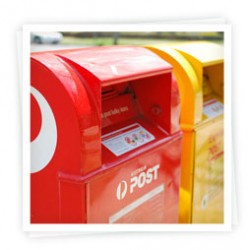 One of the major changes in our recent software upgrade has been in the way we deal with the Australia Post shipping rate calculator.  This article outlines the changes that you should make to your online store to take advantage of the new features.
In our old system, each of the rates was added individually as a separate shipping rate.  The store owner chose which Australia Post rates were to be added to the shipping rates for each country. So, for domestic shipping, you could add "Regular Parcel Post" or "Express Parcel Post".
Similarly for international shipping, you had a range of options from "Air Mail", "Sea Mail" and some courier options.
With our new improved "Shipping carriers" model, the new Australia Post shipping carrier can now be activated globally, and you can specify which rates you wish to support in your ecommerce store.
To activate the Australia Post shipping carrier, go to the "Shipping & handling" section of your Store Toolbox, and click the add the "Add a shipping agent" button on the right.  You then click the "Activate" button in the Australia Post section,  choose which services from Australia Post that you want to use, and save your changes.
Then for each country that you want to ship to using Australia Post, you just add a single rate using the Australia Post rate calculator. We've added a few extra functions here;
Handling days: In the checkout, the customer is currently shown an estimated delivery date e.g. "Delivery Estimate: 10th Sep, 2010".  If you want to give yourself an extra day or two before you ship the item, adjust the handling days.  If you add 2 handling days, the text displayed in the checkout would be adjusted to read "Delivery Estimate: 12th Sep, 2010".
Handling fee:  You can adjust all carrier shipping rates by adding a flat rate handling fee.  If you want to charge a customer for packing up the item etc.  you add a handling fee.  This amount is added to the shipping cost in the checkout.
Adjust your shipping rate by a percentage amount:  If you want to charge a little extra (or a little less) for your shipping to cover costs, you can adjust the calculated shipping fee by a percentage amount.  This also allows you to compensate for any errors in rates that a shipping carrier might return.
Fall-back options:  If for any reason the shipping carrier fails, you can set a default rate or set it to ignore that carrier.
When you've created your Australia Post rate, your customer is then given a selection of  all the available Australia Post rates that are applicable in the checkout.
The same will apply for new shipping rate calculators that we will be adding in the future. For example, as Shawn announced yesterday, FedEx is now available and there are more shipping carriers to come in the near future.
The other important change is that "free shipping" can now be configured on a per country basis. Previously, a product that qualified for free shipping would be shipped free of charge to any of the countries that you had added in the "Regions & taxes" section of your Toolbox.  Now, you can restrict which countries are eligible for free shipping offers, as you may wish to offer this only to domestic destinations.
As a part of the release of these updates, we have enabled the free shipping option for all Australian destinations (where you're already using free shipping).  This will have no effect in your storefront if you currently do not offer free shipping.   If you wish to enable free shipping for any other country, you should update the settings for that country in the "Shipping & handling" section of your store preferences.
More information is available in our knowledge base.