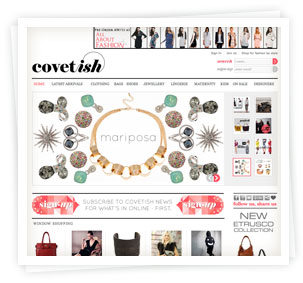 With an emphasis on local fashion, Covetish.com enables their members to seek what they covet like never before, searching across hundreds of fashion retail sites in a single click.
Developed for an Australian audience seeking all their favourite brands in one place and an international audience hungry for Australian fashion, content is sourced from designers, high street brands, boutique retailers and established online stores.
With over 1,000 brands to covet, members edit their style from a comprehensive catalogue of what's available online.
For more information about the Covetish.com Merchant Program, visit the Covetish.com site.
To add a covetish.com data feed to your store, you first need to sign up for the covetish.com Merchant Program, and then create a feed in the Marketing section of your Spiffy Store.