We're pleased to announce the release of a new Spiffy Stores theme!.  The Georgia Theme for Spiffy Stores includes a host of features including 8 different colour schemes, and 9 different font options.  Read on to find out more about this theme.
8 colour schemes.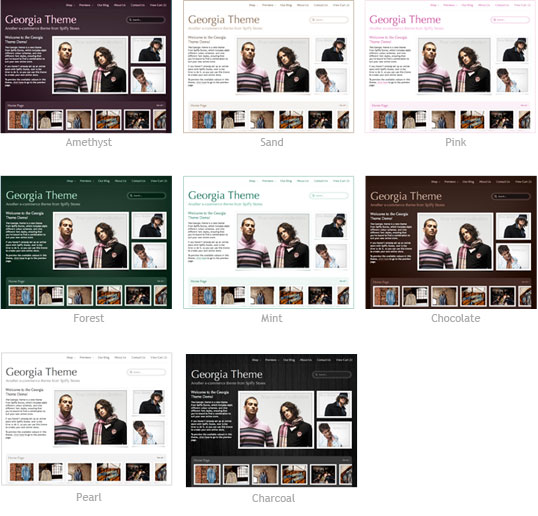 Easily choose one of the 8 built-in colour schemes in the Theme editor section of your toolbox.

9 title fonts.
You have a choice of nine different fonts.  Hopefully you'll find one that works with the look you're trying to get for your store.  if not, we can easily add a new font to your store for a small fee.  We're using a new technique to achieve native font display in browsers, and we're hoping to extend our existing themes to include this early next year.
Upload your own logo.
Either upload your own logo to your store, or use a by-line under your store name.

Feature images on your home page.
Your store home page displays 3 feature images.  You can choose to link these images through to pages in your store, or you can just leave the link blank.

Display up to 3 collections on your home page
If you only want to display one collection on your home page, create an empty collection called none, and then choose it in the drop-down menu.

Social Media
You can choose to display social media links on product pages, and blog articles.  The store footer also includes links to your Facebook and Twitter pages, a link to your blog's built-in RSS feed, and a link to your contact page.
With the growth in demand for social media functionality, we'll also be expanding out existing themes to include this functionality early next year.
Accepted payment methods.
You can also choose to display what payment methods you select in your store.  If your store accepts payment by PayPal, you would choose PayPal, Visa and MasterCard here.
To preview the Georgia Theme for Spiffy Stores, head on over to the theme's demo site.  There's also some handy tips in the blog there on how to insert images in the built-in blog in your Spiffy Store.