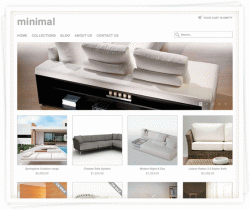 We've just updated the minimal theme so that now it can be re-coloured in your theme editor.  You can now easily add your logo, add images to your slideshow, change your store background colour, the colour of your navigation, your links, as well as your text, footer background, and footer text.
The best thing of all is that all of your colour changes are also reflected in your checkout, which also exactly matches the colour scheme you've created.
It comes with a few different colour schemes built-in as well, which you can see by clicking on the image to the right.