We now have a date for release! On Thursday the 25th of February, we will be updating the software to the new version. We're very excited about this release, as it incorporates much new functionality that will save everyone time, and will make managing your store even easier!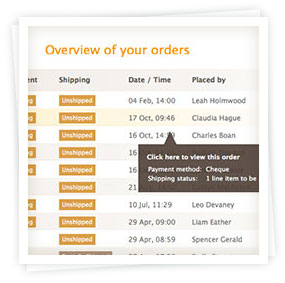 Here's a preview of what's to come…
The dashboard (home screen) has new built-in statistics that show you how your store is performing at a glance. I've mentioned these some time back so won't go into much detail here.
The orders overview screen has been re-designed so you can quickly see which orders need to be fulfilled, which orders have been paid and also open, close or cancel orders in bulk. You can now also download your orders using all available filters as an Excel document or a standard CSV file. This allows you to import them into most accounting programs.
The order view screen has also been re-designed, so that you can easily see what you need to do next when processing your orders. Functions that were once hidden have now been moved so that they are accessible in one or two clicks – without having to re-load the page.
The products overview screen now allows you to see a list of all of your products, their variants and their stock levels. You can selectively disable and enable products in bulk on one screen… plus you can also download and upload your products in bulk.
We've also added a new screen so you can add, edit & delete your email accounts and email forwards right from within your toolbox. I've done a little research on this, and couldn't find another e-commerce solution that allows you to do this, so this is truly ground-breaking work!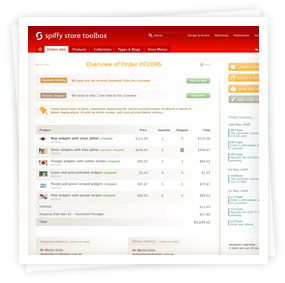 Our goal has always been to keep things simple, and incorporating this into the software means that the is only one place you need to log in to manage all aspects of your store. Normally you would have to log in to a different control panel just to set up email accounts. We couldn't see the sense in this, as it just makes things more confusing for people.
We've also added the ability to customise the design of your email templates, allowing you to present a consistent brand across the board. You can now add your logo, change the design and content… anything you want! The automated shipping confirmation emails, order confirmation emails and shipping update emails are now in the theme section of the toolbox, so everything to do with customising the design of your store is in one place.
We've had a lot of great feedback from you during our Beta program, and we've tried to take on board as many comments as we can. There are a few things that are still in the works, but I believe that this update is a major step forward, and hope to get feedback from you when we go live with the updates.