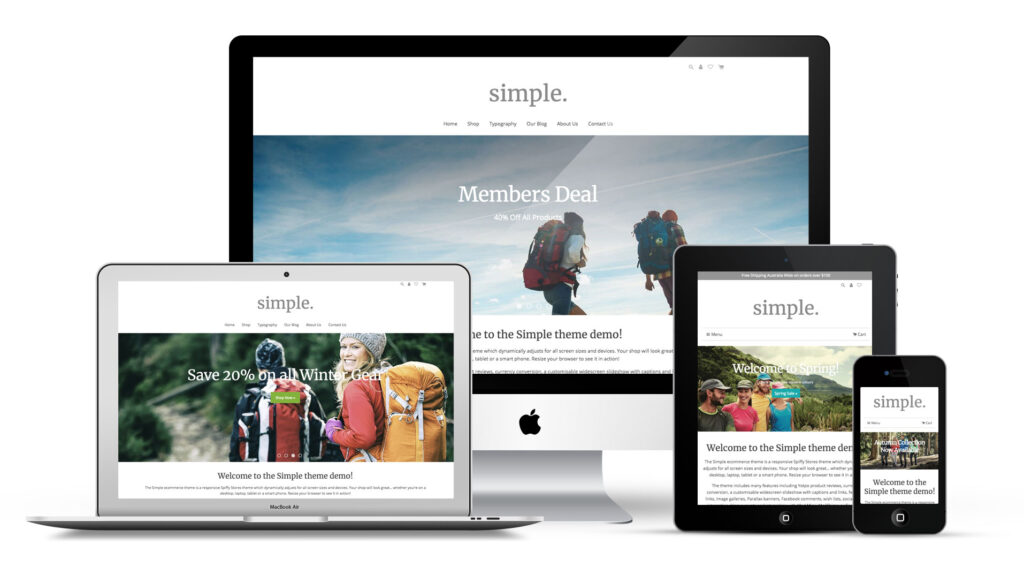 Over the past months, the Spiffy Stores team have been flexing our creative and technical muscles hard to bring store owners and developers a simple but full featured new Spiffy Stores theme.

Now, we're excited to introduce you to the result of all that hard work — and open up a whole new set of possibilities to stretch your creativity.

It's called Simple – and it's the newest premium Spiffy Stores theme available for free on all Spiffy Stores plans.

Simple is designed to be exactly what it sounds like – super simple.

Simple represents years of feedback from store owners and developers of all types who want more flexibility and control when it comes to themes, as well as keeping the overall look as clean as possible… but still containing the features built in to our other themes.

That's a delicate balancing act!
Feature overview
The real power of Simple becomes obvious once you apply the theme and see the options available in your Theme Editor.
Here's a roundup of some of the highlights of the Simple theme:
Advanced mega menus without an app: We know that mega menus are a key way to not only to "show" your shoppers around the store but also get out your marketing messages — so we've expanded the mega menu functionality in our other themes to create our most flexible setup yet.
A beautiful slideshow, with customisable size, colours, transitions, and fonts.
Customisable Instagram feed to show off a gallery of your product images
Customisable parallax banners on all pages including collection pages, product pages, blog articles etc.
Customisable tabs on product pages. You can break up your product pages into section for displaying different kinds of info, such as videos, size charts, shipping info, reviews etc.
Customisable popups, which are far more effective than just having a subscribe form in your footer.
Display featured products, featured collections, and blog articles on your home page…. along with welcome text, a slideshow, and your Instagram feed. We'll also soon provide a tutorial on how to re-order and customise sections.
Integration with Yotpo to provide product reviews
Customisable announcement bars to provide important info
Choose from over 50 included fonts, or add your own custom Google font.
Colour options so you can recolour everything in the theme, or choose from built-in colour schemes.
Product sorting, list view, grid view, and unlimited scrolling options
Google reCAPTCHA to protect you from spammers
All the other features, in other themes, such as wishlists, mobile responsiveness, social media integration, image galleries etc.
How to get it
Like our other themes, the Simple theme is available exclusively to Spiffy Stores, and can be applied in the Theme Gallery section of your store's admin. If you're switching from another theme, you may want to ensure you download a backup of your current theme first.

You might want to read The Simple Theme Guide, as the theme has a lot of customisation options in the Theme editor, and a lot of the functionality is disabled until you enable it.
The future of Simple
We're planning on adding a bunch more features to this theme, so stay tuned. Planned enhancements include;
Quick shop popup windows
Create unlimited custom fields on your products
Video in product images
Video in the home page slideshow
More enhanced responsive images
This is only the beginning
Finally, as you start using Simple, don't forget that this is version 1.0 only — so you might say we're only in the warm-up phase of pushing Spiffy Stores theme flexibility.

We're already hard at work on a series of updates that will be released to bring even more features and functionality to this theme.