You might not think it, but there are plenty of ways to promote your online store using the professional network, LinkedIn. Here's 10 for you!
1. Set up a Company Page
Just as you can create a personal LinkedIn profile to showcase yourself, you can do the same for your business. They're called Company Pages and they provide you with a free and easy way to promote your store online.
Before you can set up a Company Page, you need to have your own personal LinkedIn page (if you don't yet have one, head over to my previous post on LinkedIn profiles for some tips on getting started).
It's quite easy to launch a Company Page, but there are a few requirements you need to meet before you can go ahead, so read through those first or you may quickly get frustrated!
When you're ready, here's how to make it happen.
> On your personal page, hover your cursor over 'Interests' in the top menu and select 'Companies'.
> Click 'Create' in the 'Create a Company Page' box to the right.
> Follow the prompts to enter your company name and work email address, and then add your company information, including the website address, logo, banner image and an engaging description of what you sell. LinkedIn comes up well in search results, so include your main keywords in the important bits.
> Use the opportunities provided to link to your other online properties like your company social media accounts and your Spiffy store.
Take your time over this. Once you publish your Company Page, it'll be live on LinkedIn!
Extra bells and whistles make your Company Page stand out
Now you have a basic page, you can go that one step further to make it more interesting and valuable.
2. Add Showcase Pages.
You can add up to 10 of these extra pages to promote specific products you offer. To create a Showcase Page, go to 'Edit' > 'Create a Showcase Page'.
3. Get your staff on board.
If you have staff and they're on LinkedIn, ask them to add their role at your company to their profile. That'll connect them to your Company Page and show you're a real business supported by real people. This can also drive more traffic to your page as readers view their profiles. If your team aren't on LinkedIn, send them an invitation!
Now you're started, keep the engine running
Just like personal profile pages, it's important to use your Company Page regularly if you want to attract and keep interest in your business.
4. Post regular updates that would appeal to your followers.
Share helpful and interesting status updates like your latest company news, links to your blog posts or other articles on the web, and insights into your products. Quality images used with your updates will attract the eye. Watch out for comments from LinkedIn members so you can reply to any questions and give your own perspective on any points raised.
A cool feature of LinkedIn updates is the ability to target your followers by criteria such as company size, industry, job or location. Use this if you want to be ultra-targeted.
Post an update via the 'Share an update' box on your Company Page.
5. Run your own LinkedIn Group
Attract wider attention and show yourself as a specialist in your field through your own Group! Use it to spark conversation about your industry and business, and share content with like-minded members. In the top menu, go to 'Interests' > 'Groups' and click the 'create a group' button down on the right. Fill in the fields to start your Group.
Once you've launched, keep active in your community. Answer any questions and post comments regularly, or people will lose interest.
Let the world know you're there
Anyone searching on LinkedIn for your store should be able to find it easily. But there's a much wider audience roaming around the web you could attract without incurring extra costs.
6. Add a LinkedIn follow icon to your Company Page from your Spiffy store.
Read your store's theme guide to find out how to do this.
7. Post your Company Page url on other social media channels you use.
8. Add a link to your Company Page in your email signature.
Pay for that extra reach
When you need a bigger push, consider spending a bit of your hard earned cash on paid advertising.
9. Try LinkedIn's paid ads.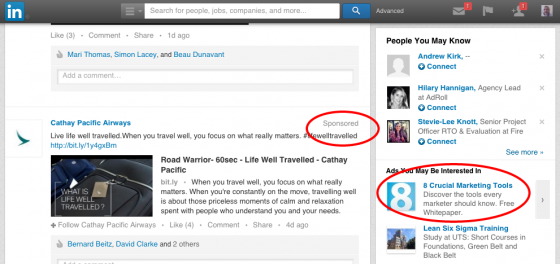 These small ads can be used to drive your target LinkedIn audience to your website or Company Page. They come in text, image or video formats, and let you filter your audience very precisely on a range of criteria like job titles, locations, industries, or company size – that's really handy! You can pay either per click (CPC), or how many times it's shown (CPM) and you can set a daily budget to keep control of your spend.
You'll need a small image, headline (25 characters max), short ad copy (75 characters max) and the url of the page it will point to. Once you've got that together, head on over to https://www.linkedin.com/ads to begin.
10. Use the Sponsored Updates service.
You can promote your usual company updates to a wider audience through paid sponsorship (regular updates will only reach your company followers). Like Ads, you'll be charged based either on the number of LinkedIn members who see the update or the number of clicks they receive. LinkedIn have a short post explaining how to do this here. 
As in all social media activity, the key is to be, well, social! Get involved with your audience and remember these three key elements: post quality content, use your keywords and always remain professional. Good luck!