Using NetDrive to connect to your store using WebDAV
From Spiffy Stores Knowledge Base
NetDrive - The Network Drive for Windows, is a Windows application that allows you to connect to a remote server running FTP or WebDAV and to access the files on that server as if they were mounted on a local drive on your own machine.
The software can be downloaded from the NetDrive web site at: http://www.netdrive.net/
Once you've downloaded and installed the software, start the program and click on the "New Site" button to create your new NetDrive site.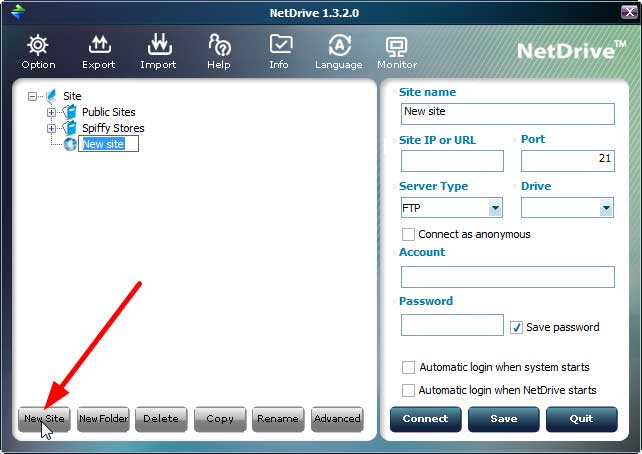 Enter the following details:
Site name - Enter a name for your Spiffy Store.
Site IP or URL - Enter the URL address for your store. Note: You should always specify http here, even though you will be setting the session options to use SSL later. Use the spiffystores.com domain name rather than any custom domain names that you have configured for your store. Also, do not include a trailing '/' after the /dav path.


http://fresh.spiffystores.com/dav

Server Type - Select WebDav.
Port - This will be set to 80 when you select WebDav.
Drive - Choose an unused local drive letter which will be used to access this remote drive.
Account - Specify your full email address that you use to login to your Spiffy Stores toolbox.
Password - Specify your Spiffy Stores toolbox password.
Save Password - Select this to avoid being prompted for your password every time you connect to this remote drive.
Choose any automatic login options that you want.
Now, click on the Advanced button at the bottom of the screen. A popup window will appear.
Select the Use HTTPS option.
Click Ok to save the setting.
You should now see that the Port number has changed to 443.
Click Save to save your drive settings.
You should now be able to connect to your Spiffy Store by clicking on the Connect button.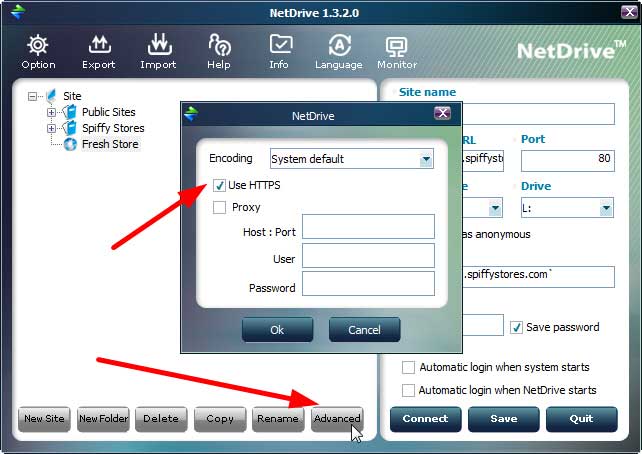 When you have been successfully connected to your store's theme files, you will see an Explorer window open on the mapped drive.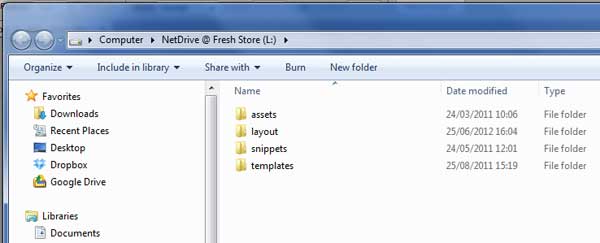 You can now access these files using your favourite Windows editor as if they were sitting on your local hard drive.
About WebDAV
WebDAV (World Wide Web Distributed Authoring and Versioning) is a standard for collaborative authoring on the Web. It is a set of extensions to the Hypertext Transfer Protocol (HTTP) that allows for collaborative editing and file management between users via the Internet.
For more information, check the WebDAV website at http://www.webdav.org