TrustCommerce Payment Gateway
From Spiffy Stores Knowledge Base
The TrustCommerce Payment gateway can be activated in the "Preferences -> Checkout & Payment" section of your Spiffy Store Toolbox.
To activate the TrustCommerce gateway, enter your TrustCommerce Customer ID and password, select the cards you accept, and then choose whether to pre-authorise the charge, or to charge the card immediately.
For more information about TrustCommerce, go to http://www.trustcommerce.com/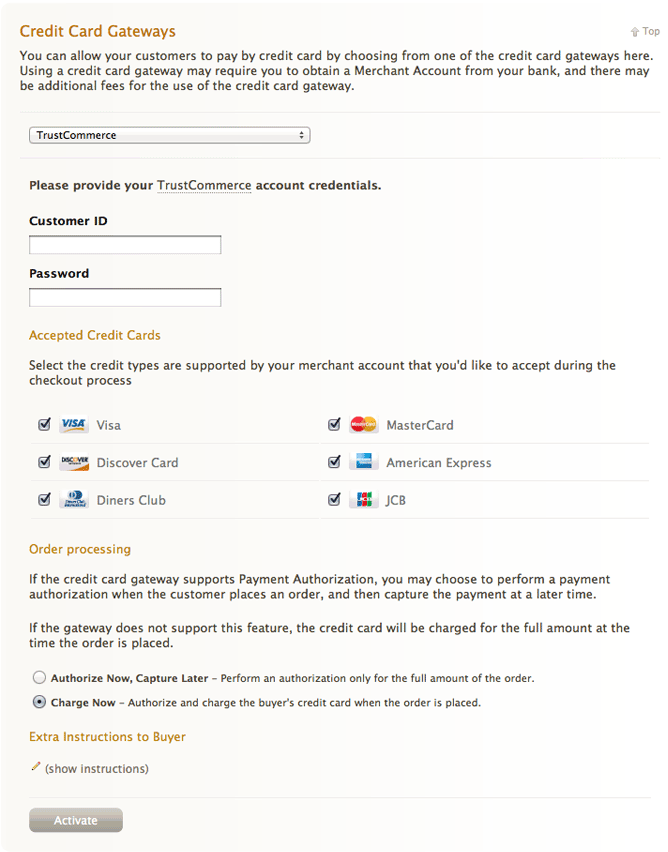 About TrustCommerce
TrustCommerce provides the payment engine for companies of all sizes—from start-ups processing 100 transactions a month, mid-size companies processing 25,000 transactions a month, to Fortune 500 businesses processing more than 750,000 transactions per month. We safeguard the merchant-customer relationship by providing privacy, speed, security, and a commitment to earn and keep your valued trust.
For more information about TrustCommerce, go to http://www.trustcommerce.com/