Square Payment Gateway
From Spiffy Stores Knowledge Base
Get your funds fast. Square makes it easy for you to accept credit cards online with no commitments or monthly fees. Funds are deposited as soon as the next business day and you can get a free card reader to take payments in person.
As a Square merchant, you have access to the best of Square: insightful sales reporting, online scheduling, customer engagement tools, and much more. Square is there for your business and your customers with everything from Chargeback Protection and phone support to data encryption and fraud monitoring.
Square doesn't charge sign-up fees, chargeback fees, inactivity fees, premium card fees, PCI-compliance fees, or any other kind of hidden fee. Learn more.
Before Starting: You will need a Square account
To enable the Square Payment Gateway, you will need to have a Square account. If you don't have an account, click here to sign up, and then return to this page.
Part 1 - Set up the Square Payment Gateway in your Spiffy Store
Follow the steps below to enable the Square Payment Gateway in your store.
Log into your Spiffy Store Toolbox
Go to the "Checkout & payment" page in the Preferences section
In the "Credit Card Gateways" section, choose "Square"
Select the cards you wish to accept. You may also choose to add a specific payment surcharge for each card that you accept.
Click the "Activate" button.
Go to Part 2 below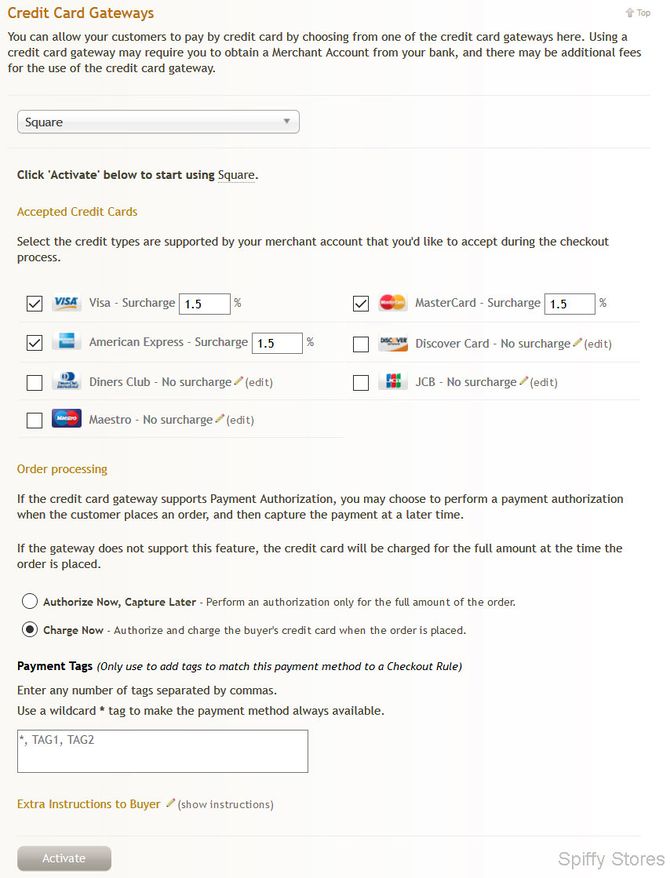 Part 2 - Configure your Square Account
Once you've clicked the "Activate" button in your Spiffy Store, you will be redirected to the Square site.
Log in to Square and you will be asked to grant a number of permissions to Spiffy Stores. We need these permissions so that we can process transactions on your behalf when an order is processed on your Checkpout page. If you have previously granted us these permissions, you may not be required to specifically authorize us again.
Click the "Allow" button.
After you've followed the steps above, your Spiffy Store should now be set up to accept payments through the Square Payment Gateway. You will need to ensure that you have provided all the details, such as bank accounts and business documents that Square require to process your payments.
About Square
Square lets you accept tap-and-go cards, mobile wallets, and chip cards, whether you're on the move, at your counter or online via your Spiffy Store. Credit card processing is just the start. The free Square Point of Sale app also has tools to help you manage every area of your business, both online and physical.
Square currently supports businesses in the US, Canada, UK, Australia, and Japan. You can instantly accept payments from around the world.
Businesses that are based in Australia are able to link an Australian AUD bank account to their Square account. When linking an AUD bank account to your Square account, you'll need to provide your Bank State Branch (BSB) and account numbers to Square. Your BSB number tells Square which bank you use, and which branch of that bank your account is located in. Your account number specifies which account is to be used to deposit your funds.
Your AUD bank account must be based in Australia, and should support BECS transfers (most banks in Australia support this).
For more information about Square please feel free to visit the Square website at https://squareup.com/au