SecurePay Online Payments - your all-in-one solution
From Spiffy Stores Knowledge Base

The SecurePay payment gateway allows your customers to enter their payment details in your own checkout... providing a seamless checkout experience, and resulting in less abandoned shopping carts.
We connect to SecurePay using their API, so your customer stays in your checkout, and is not re-directed to a SecurePay payment page.
For more information about SecurePay, visit the SecurePay website at https://www.securepay.com.au
How the application process works
SecurePay Online Payments offers a fast, simple application process with a five business-day turnaround time.
Complete the [online application form]. Ensure you enter "FFR" in the Referrer Code box.
Make sure you select the "I want to accept payments & settle funds" option if you don't already have a merchant account.
When your application is provisionally approved, you'll receive test account credentials, so you can activate SecurePay in the Preferences -> Checkout & Payment section of your store.
When you're ready to go live, turn off test mode and log in to your live SecurePay Online Payments account. The first time you log in to your live SecurePay Online Payments account, an e-commerce compliance form will display, confirming you have compulsory elements such as a privacy policy. Complete the form online and you're ready to accept payments!
How to activate the SecurePay payment gateway in your store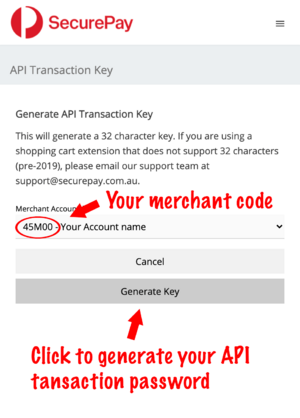 The SecurePay payment gateway can be activated in the "Preferences -> Checkout & Payment" section of your Spiffy Store Toolbox.
To activate the SecurePay gateway, go to the "Preferences -> Checkout & Payment" section of your store's admin and follow the instructions below.
Scroll down to the "Credit Card Gateways" section.
Choose "SecurePay" in the drop-down select menu
Enter your SecurePay MERCHANT CODE in the Merchant ID field
Enter your SecurePay API Transaction Password in the Transaction Password field. Click here to generate Your API Transaction Password.
Select the cards you accept. This depends on what you have set up with SecurePay.
Click the "Activate" button.
It's as easy as that!
Known errors
If you receive the "Invalid Merchant ID" error, then you'll need to generate a new API Transaction Key. Follow the instructions below.
Login at https://login.securepay.com.au/v4/
Go to Manage -> API Transaction Password
Click "Generate Key" and copy your key
Paste your key in the "Transaction Password" field and save your changes.
About SecurePay
SecurePay has worked with Australian businesses for more than 15 years, helping more than 40,000 businesses on their e-commerce journeys.
They offer a wide range of online payment solutions, including SecurePay Online Payments – a complete online payments solution – as well as various payment gateway solutions.
They are an Australian company, with a team of payment specialists based here for help and advice when you need it.
As a leader in the Australian online payments industry, they offer a host of products and services, including their own FraudGuard suite, which helps businesses combat fraudulent transactions. SecurePay's servers are located across multiple local data centres for maximum uptime, and all of their customer's data is securely kept here, in Australia.
For more information please feel free to visit the SecurePay website at https://www.securepay.com.au