Minimal theme: Adding the "Collections" page to your store
From Spiffy Stores Knowledge Base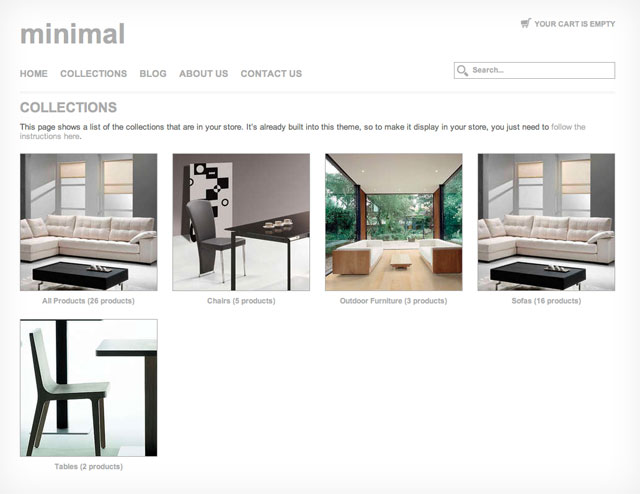 The minimal theme also has a "Collections" page that shows a slideshow of the first 5 products in each of your collections. Click here to see a preview of how this page works.
To add the "Collections" page to your store, you just need to create a link to a page that has the address "/collections" to do this, follow the instructions below:

Go to the "Store menus" section of your toolbox

Scroll down to the menu that you want to add the link to

Click the "Add Menu Item" link

Enter the name of your link (e.g. Collections)

Choose "Web address" next to "This item links to:"

Enter "/collections" (without the quotes)

Click the "Add item" button


You're also able to edit the text that appears on this page. To do this, follow the instructions below:
Go to the "Pages & blogs" section of your Toolbox, and click the "add a new page" button. Give your page a title, and add some text, then save it.

Click on the edit link, and then click on the "handle" link, which is next to the "Title" field. This should then display the field for your handle.

Change the handle of your page to "collections".
When you've done this, your page title and the text that you've entered will appear on your collections page.