Bendigo Bank Payment Gateway
From Spiffy Stores Knowledge Base
The Bendigo Bank Payment Gateway can be activated in the "Preferences -> Checkout & Payment" section of your Spiffy Store Toolbox.
To activate the Bendigo Bank gateway, enter your Merchant ID and Access Code, select the cards you accept, and then click the "Activate" button. Your Merchant ID and Access Code need to be requested from Bendigo Bank. Please contact Bendigo for assistance with this.
For more information about Bendigo Bank, Visit the Bendigo Bank Website.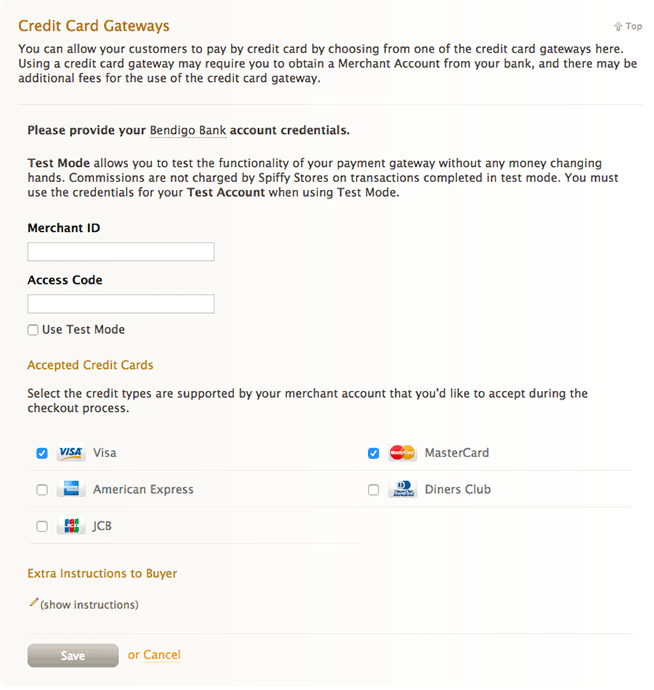 About Bendigo Bank
Bendigo Bank's Shopping Cart payment solution authorises payments in real-time from your business's website, allowing customers to browse and purchase your products and services in their own time, and right from home, saving you all the hard work.
The Online Store Payments solution is ideal for businesses with, or setting up an online store.
Key Features
Competitively Priced, and customised to your business's needs.
Accepts all major credit cards and, upon approval, American Express and Diners Club.
Comprehensive transaction, settlement and reconciliation reports at your fingertips, using Merchant Administration, an Internet-based portal accessed via your browser.
Secure, industry standard online safety measures, to protect your customers' card details.
Seamlessly integrates with your existing website, or IVR system.
Real-time authorisation of transactions, even without the card being present.
Want to know more?
For more information about Bendigo Bank, Visit the Bendigo Bank Website.