Difference between revisions of "Accepting payments using Afterpay"
From Spiffy Stores Knowledge Base
(5 intermediate revisions by the same user not shown)
Line 16:
Line 16:
 

==Seamless integration with your store.==

 

==Seamless integration with your store.==

 
 
−

To accept Afterpay, you will first need a merchant account with Afterpay.  [https://www.afterpay.com.au/for-merchants/ Contact Afterpay] to apply for an account.  As this is a new inegration, you may get someone at AfterPay who is not aware that Spiffy Stores is a supported solution.  Should this happen, please reply to them providing a link to this page.

+

To accept Afterpay, you will first need a merchant account with Afterpay.  [https://www.afterpay.com.au/for-merchants/ Contact Afterpay] to apply for an account.  As this is a new , you may get someone at AfterPay who is not aware that Spiffy Stores is a supported solution.  Should this happen, please to to .

 
 
−

You should also ensure that during the application process you provide Afterpay support with the Base URL displayed below, as if you don't provide them with this information, Afterpay will not work in your checkout.

 
−

<pre>

 
−

BASE URL: https://server1.spiffystores.com

 
−

</pre>

 
 

<br>

 

<br>

 

After you have created an Afterpay account, activating Afterpay payments in your store is simple, and can be done in the ''Preferences -> Checkout & Payment'' section of your Spiffy Store Toolbox.

 

After you have created an Afterpay account, activating Afterpay payments in your store is simple, and can be done in the ''Preferences -> Checkout & Payment'' section of your Spiffy Store Toolbox.

Line 37:
Line 33:
 

<br>

 

<br>

 
 
−

===Displaying Afterpay information in your store===

+

===Displaying Afterpay informationin your store===

 
 
−

To display information and Afterpay pricing on product pages in your store, simply paste the following code where you'd like the information to appear in the '''''product.liquid''''' file in your ''Theme Editor'', save the file, and then preview a product page in your store.

+

Afterpay in your store, you in your , , and in .

 
 
−

You may need to experiment with positioning until you find somewhere that it fits nicely...

 
−

 
−

<pre>{% include "afterpay_product" %}</pre>

 
−

<br>

 
−

 
−

This will result in the following information displaying on your product page...

 
−

 
−

<br>

 
−

 
−

[[File:Afterpay_product.gif]]

 
−

 
−

<br>

 
−

 
−

If you would rather that the text displayed is different, please use the code example below and make whatever changes you prefer...

 
−

 
−

<pre>

 
−

<div style="display: block; margin-top:15px; margin-bottom:15px;">

 
−

  <p><a href="javascript:;" id="afterpay-popup" onClick="window.open('http://asset1.spiffyserver.com/global/afterpay/afterpay.html', 'Afterpay', 'width=768,height=570');"><img src="{{ 'afterpay/ap-01.jpg' | global_asset_url }}" style="width: 100px;"> More info</a>.</p>

 
−

  <p>Make 4 interest-free payments of <strong><span id="afterpay-price">{{ product.price | divided_by: 4 | money }}</strong> fortnightly and receive your order now.</p>

 
−

</div>

 
−

</pre>

 
 

<br><br>

 

<br><br>

 
 
 

==Have Afterpay contacted you saying that Spiffy Stores isn't a supported platform?==

 

==Have Afterpay contacted you saying that Spiffy Stores isn't a supported platform?==

 
 
−

We're currently working with Afterpay to resolve this issue. Please contact us and we'll put you in touch with someone at Afterpay that can assist you.

+

We're currently working with Afterpay to resolve this issue. Please and we'll with Afterpay .

 
 
 

When you're at the stage of Solution Acceptance Testing, please let us know in advance, so we can make sure that we have your site set up and in test mode for Afterpay.  This will ensure the testing process is as painless as possible for you.

 

When you're at the stage of Solution Acceptance Testing, please let us know in advance, so we can make sure that we have your site set up and in test mode for Afterpay.  This will ensure the testing process is as painless as possible for you.
---
Revision as of 13:01, 6 November 2019

Afterpay's proprietary technology platform enables shoppers to pay for items in four simple instalments, without the need for additional information at checkout.
For more information about Afterpay, Visit the Afterpay Website.
Benefits For Afterpay Merchants

Incremental sales, new customers
Afterpay converts customers that would have otherwise abandoned, generating more sales from the existing customer base and creating new customers.


Guaranteed up-front payment
Afterpay pays merchants the full transaction amount within 48 hours of purchase, guaranteed.


Increase basket size and repeat purchase rates
Afterpay customers spend more per transaction and over their lifetime, and they come back more often.


Zero fraud or credit risk
Afterpay assumes all end-customer non-payment risk for every single transaction.
Seamless integration with your store.
To accept Afterpay, you will first need a merchant account with Afterpay. Contact Afterpay to apply for an account. As this is a new integration, you may get someone at AfterPay who is not aware that Spiffy Stores is a supported solution. Should this happen, please forward their email to support@spiffystores.com.au, and we'll communicate with their staff to get you set up painlessly.

After you have created an Afterpay account, activating Afterpay payments in your store is simple, and can be done in the Preferences -> Checkout & Payment section of your Spiffy Store Toolbox.
To activate Afterpay, scroll down to the Alternative Payment Methods section, and select Afterpay.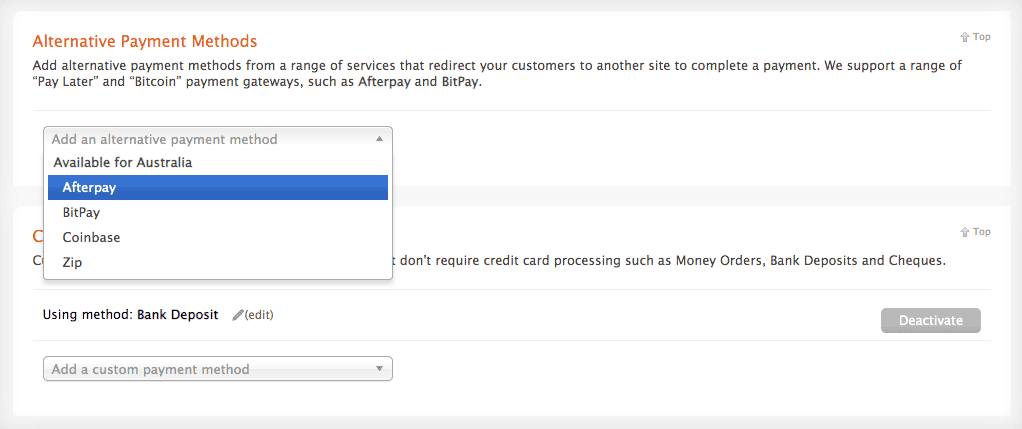 It's then just a simple matter of entering the Merchant ID and Merchant Key provided by Afterpay. You should set a Maximum Order Value and Minimum Order Value as per your agreement with Afterpay. You may also want to add a note that is displayed in your checkout in the Extra Instructions to Buyer section.
Once you have completed all of the information, simply click the Activate button, and head over to your storefront to preview Afterpay in your checkout.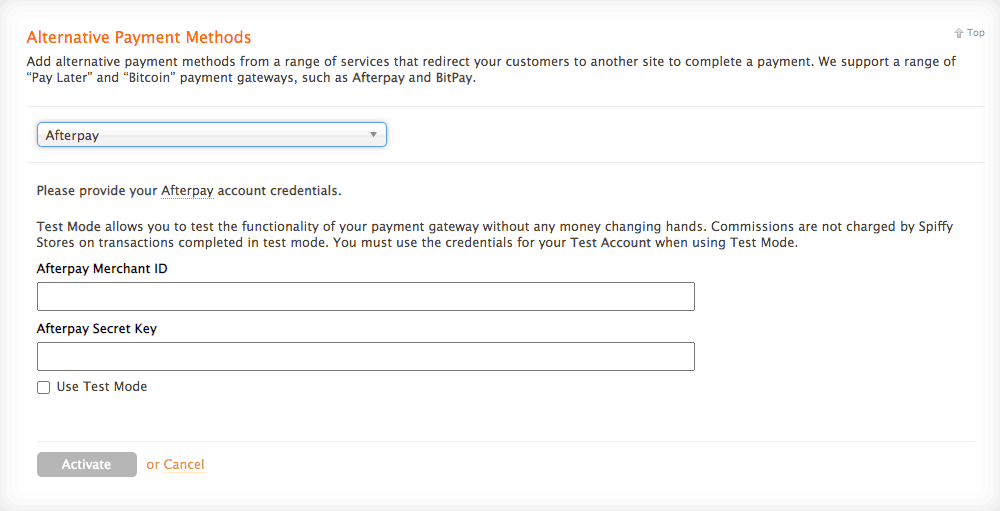 Displaying Afterpay information/widgets in your store
We assist you to get Afterpay set up in your store. Our newer themes already include Afterpay support, but if your theme isn't showing Afterpay assets when you activate Afterpay in your store, please contact us, and we'll add them in for you free of charge.
Have Afterpay contacted you saying that Spiffy Stores isn't a supported platform?
We're currently working with Afterpay to resolve this issue. Please forward their email to support@spiffystores.com.au and we'll resolve this with Afterpay on your behalf.
When you're at the stage of Solution Acceptance Testing, please let us know in advance, so we can make sure that we have your site set up and in test mode for Afterpay. This will ensure the testing process is as painless as possible for you.
Orders marked as Payment Pending or Error?
Afterpay can sometimes take a little while to verify a payment and decide to offer your customer credit, which is why the order is marked as Payment Pending.
An order that uses Afterpay that is marked as Error means that Afterpay has rejected the payment. The customer is well aware that this has happened, as they are notified by Afterpay. In this instance, we recommend you follow-up with your customer by sending them an email asking if they would like to continue with the order. You would generally do this about 24 hours after the order has been placed.
If they do want to continue with the order, log in to your store admin, and view the order details. You will find that there should be an option to Send order retry link under Email customer, which will send them an email with a link so they can complete their payment. When you receive payment, the order should then be automatically marked as paid on the View order screen in your Spiffy Store.
For more information about Afterpay, Visit the Afterpay Website.